Liz Collin
Indigenous Education Coordinator
Liz Collin, a former elementary school teacher, found her passion for decolonizing education and revitalizing Indigenous languages while working as an Ojibwe immersion teacher at Bdote Learning Center in Minneapolis, MN. While at Bdote, she continued to study the Ojibwe language, running language tables and writing language immersion curriculum for students. In May 2020, she obtained a Master's in Education degree from the University of Minnesota, where her studies focused on dual language and immersion teaching practices in the elementary school setting.
Liz is the Indigenous Education Coordinator at NATIFS, working alongside the Indigenous Education Director to create and implement curricula dealing with Indigenous foodways and holistic health. She is excited to continue her work in the Native community, decolonizing education and helping to strengthen access to traditional Indigenous foodways.
Vern DeFoe
Kitchen Manager, Indigenous Food Lab
Vern DeFoe has been working with our organization since the beginning, first co-managing the Tatanka Truck and then coming on in various management positions at the Sioux Chef. He has now landed as the Kitchen Manager at the Indigenous Food Lab, and has been working in the food industry for over 20 years. He has a passion for showcasing the diversity and flavors of Native foods and connecting Native people to their ancestral foodways. He believes that this connection to ancestral foods is key for Indigenous people, and sees great empowerment in going outside and foraging for foods local to the area.
Vern grew up in Wisconsin and is a member of the Red Cliff Anishinaabe tribe. He is also passionate about treaty history, wildlife preservation, and Indigenous issues in politics. Vern is a musician as well, playing bass in the band War//Plague and sharing his passion for punk and heavy metal music.
Kieran 'Ki' Gorman
Culinary Team, Indigenous Food Lab
Joining our team with an eclectic and impressive background spanning from pastry-expertise to wood carpentry, Kieran works hard at the Food Lab as a part of our culinary team. Affiliated with the Diné tribe of the Southwestern United States, Kieran was born in Window Rock, AZ where he was raised on a ranch. He eventually made his way across the country to pursue schooling and work in fine culinary arts, earning his AA in Management and Pastries from the Oregon Culinary Institute in Portland. He now lives in the Twin Cities.
Kieran worked at the Bachelor Farmer in downtown Minneapolis and spent his time volunteering at local favorite Gatherings Café before coming to join us at the Indigenous Food Lab. In his free time, he pursues hobbies like painting, singing, and woodworking.
Kate Hoff
NATIFS Nonprofit Consultant
Kate brings her three decades of fundraising and nonprofit organization management experience to her work with NATIFS, where she has been involved in nearly every aspect of organizational development, fundraising and programming since 2018. She currently serves as President of Weidman Worldwide, a fundraising consulting firm in Minnesota focused on social and environmental justice. Prior to that, Kate worked for 23 years at the Institute for Agriculture and Trade Policy as Vice President for Development, specializing in fundraising for food system and trade policy reform nationally and internationally. Kate is an excellent matchmaker, researcher, connector and creative problem solver. She has particular talent in understanding and managing complex situations and relationships. Kate has a B.A. in Sociology from Augsburg College and a Master's in Public Administration, Nonprofit Management from Hamline University.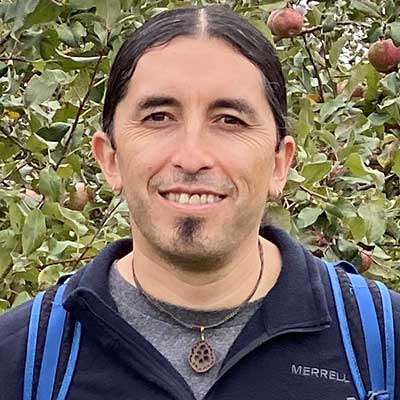 Armando (Mandu) Medinaceli
Indigenous Education Director
Armando Medinaceli, Ph.D. is a Bolivian ethnobiologist with extensive experience collaborating with indigenous peoples in Bolivia, Mexico, and Guatemala as well as teaching at undergraduate and graduate levels in the United States and Bolivia. He has over fifteen years of experience working in ethnobiology, indigenous foodways and food sovereignty, biocultural diversity, sustainability, climate change, community conservation, collaborative video, and more. Through his collaborative approach to research and his experience as a professor, he has led research and programs with an educational focus always highlighting the emic (local) perspectives and supporting the self-determination of indigenous communities.
As part of his commitment to ethically collaborate with indigenous peoples, he serves as co-coordinator for the Latin American Society of Ethnobiology's ethics committee, and as a member of the Society of Ethnobiology's ethics and advocacy committee.
As the Indigenous Education Director at NATIFS, he works on the design, coordination, and implementation of the organization's education and research programs.
---
Armando Medinaceli, Ph.D. es un etnobiólogo boliviano con amplia experiencia colaborando con pueblos indígenas en Bolivia, México y Guatemala, y como profesor a nivel de pregrado y posgrado en los Estados Unidos y Bolivia. Cuenta con más de quince años de experiencia trabajando en etnobiología, sistemas alimentarios indígenas y soberanía alimentaria, diversidad biocultural, sostenibilidad, cambio climático, conservación comunitaria, video colaborativo y más. A través de su enfoque de investigación colaborativa y su experiencia como profesor, ha liderado investigaciones y programas con un enfoque educativo siempre resaltando las perspectivas emic (locales) y apoyando la autodeterminación de las comunidades indígenas.
Como parte de su compromiso de colaborar éticamente con los pueblos indígenas, se desempeña como co-coordinador del comité de ética de la Sociedad Latinoamericana de Etnobiología y como miembro del comité de ética y defensa de la Sociedad de Etnobiología.
Como Director de Educación Indígena de NATIFS, trabaja en el diseño, coordinación e implementación de los programas de educación e investigación de la organización.
Sean Sherman
Indigenous Culinary Director and Co-Founder
Chef Sean Sherman, Oglala Lakota, born in Pine Ridge, SD, has been cooking across the US and Mexico over the past 30 years, and has become renowned nationally and internationally in the culinary movement of indigenous foods. His main focus has been on the revitalization and evolution of indigenous foods systems throughout North America. Chef Sean has studied on his own extensively to determine the foundations of these food systems to gain a full understanding of bringing back a sense of Native American cuisine to today's world. In 2014, he opened the business titled, The Sioux Chef as a caterer and food educator in the Minneapolis/Saint Paul area. He and his business partner Dana Thompson also designed and opened the Tatanka Truck, which featured 100% pre-contact foods of the Dakota and Minnesota territories.
In October 2017, Sean was able to perform the first decolonized dinner at the James Beard House in Manhattan along with his team. His first book, The Sioux Chef's Indigenous Kitchen was awarded the James Beard medal for Best American Cookbook for 2018 and was chosen one of the top ten cookbooks of 2017 by the LA Times, San Francisco Chronicle as well as the Smithsonian Magazine. Also that year, Chef Sean was selected as a Bush Fellow, as well as receiving the 2019 Leadership Award by the James Beard Foundation. The Sioux Chef team continues with their mission to help educate and make indigenous foods more accessible to as many communities as possible through the recently founded nonprofit North American Traditional Indigenous Food Systems (NATIFS). Through this entity, Sean sees this vision as even more relevant in the time of COVID. Educating the world on localizing food systems is critical and we believe that we can leverage NATIFS to expedite this mission.
Bryce Stevenson
Executive Chef, Indigenous Food Lab
Starting his career in Milwaukee (Minoakii), Bryce Stevenson has joined the Indigenous Food Lab team as our Executive Chef. He brings with him a great deal of experience and knowledge of many different aspects of cuisine, as well as an eclectic background that includes carpentry, graphic design, and creative writing.
His food journey began as a part-time job at a falafel house, where he developed an appreciation for locally sourced and simple ingredients served farm-to-table. From there, he worked in different food scenes including San Francisco, Chicago, and recently ran the culinary program at the Hotel Fauchere in Pennsylvania, before making his way to the Twin Cities to lead our kitchen.
His hobbies include fishing, hiking, foraging, his dogs, music, art, and, of course, constantly looking for new food to try.
Bryce is an enrolled member of the Red Cliff (Miskwaabikong) Band of Ojibwe.
Dana Thompson
Executive Director and
Co-Founder
A lineal descendant of the Wahpeton-Sisseton and Mdewakanton Dakota tribes and lifetime Minnesota native, Dana has worked for nearly a decade within the food sovereignty movement. As co-owner and chief operating officer of The Sioux Chef, she manages all business development strategies for the company. She has traveled extensively throughout tribal communities, engaging in critical ways to improve food access and implementing strategies to do the most possible good as a social entrepreneur. In 2018, Dana jointly founded the non-profit NATIFS (North American Traditional Indigenous Food Systems). Through this entity, she focuses her expertise on addressing and treating ancestral trauma through decolonized perspectives of honoring and leveraging Indigenous wisdom.
Prior to her work with The Sioux Chef and NATIFS, Dana worked for over twenty years as a lead marketing specialist — overseeing product merchandising, marketing, special events, talent management, media relations, and project management in diverse industries and settings. Previous clients include Target Corporation, MusicMatters, Effect Partners, GoKart Labs, Aster Pictures Corporation and DIY Network, a multinational cable network owned by Discovery, Inc. An acclaimed jazz and Americana vocalist, multi-instrumentalist and music producer, Dana has released seven albums.