Indigenous Education Director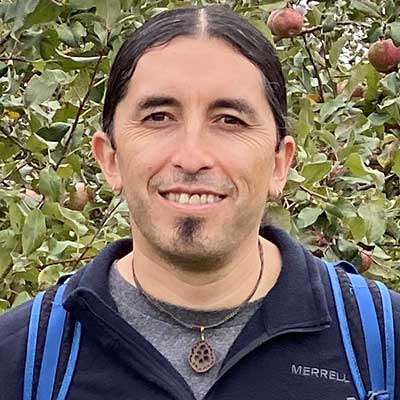 Armando Medinaceli, Ph.D. is a Bolivian ethnobiologist with extensive experience collaborating with indigenous peoples in Bolivia, Mexico, and Guatemala as well as teaching at undergraduate and graduate levels in the United States and Bolivia. He has over fifteen years of experience working in ethnobiology, indigenous foodways and food sovereignty, biocultural diversity, sustainability, climate change, community conservation, collaborative video, and more. Through his collaborative approach to research and his experience as a professor, he has led research and programs with an educational focus always highlighting the emic (local) perspectives and supporting the self-determination of indigenous communities.
As part of his commitment to ethically collaborate with indigenous peoples, he serves as co-coordinator for the Latin American Society of Ethnobiology's ethics committee, and as a member of the Society of Ethnobiology's ethics and advocacy committee.
As the Indigenous Education Director at NATIFS, he works on the design, coordination, and implementation of the organization's education and research programs.
---
Armando Medinaceli, Ph.D. es un etnobiólogo boliviano con amplia experiencia colaborando con pueblos indígenas en Bolivia, México y Guatemala, y como profesor a nivel de pregrado y posgrado en los Estados Unidos y Bolivia. Cuenta con más de quince años de experiencia trabajando en etnobiología, sistemas alimentarios indígenas y soberanía alimentaria, diversidad biocultural, sostenibilidad, cambio climático, conservación comunitaria, video colaborativo y más. A través de su enfoque de investigación colaborativa y su experiencia como profesor, ha liderado investigaciones y programas con un enfoque educativo siempre resaltando las perspectivas emic (locales) y apoyando la autodeterminación de las comunidades indígenas.
Como parte de su compromiso de colaborar éticamente con los pueblos indígenas, se desempeña como co-coordinador del comité de ética de la Sociedad Latinoamericana de Etnobiología y como miembro del comité de ética y defensa de la Sociedad de Etnobiología.
Como Director de Educación Indígena de NATIFS, trabaja en el diseño, coordinación e implementación de los programas de educación e investigación de la organización.